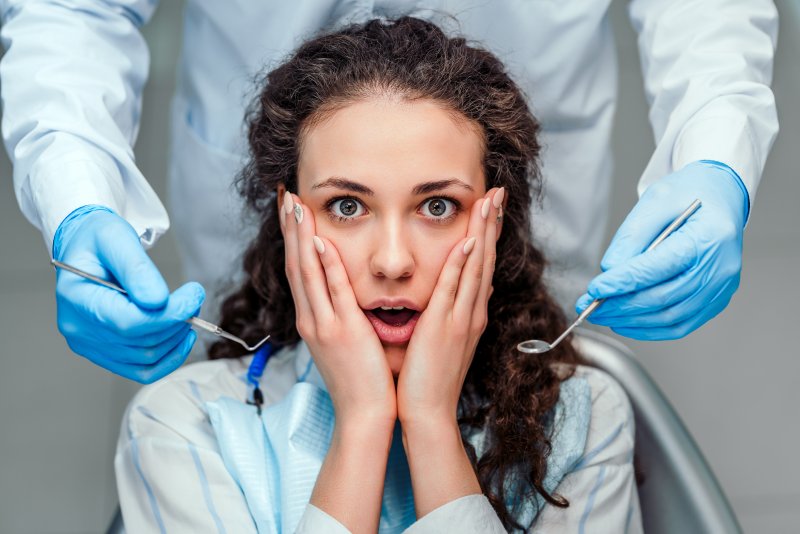 Does the word "dentist" usually make you nervous or anxious? Many people feel the same way. This can make it challenging to seek dental treatment, especially the ones necessary to protect your smile and overall health. However, you'll want to at least get preventive dental care done to help you avoid the need for more timely and costly procedures in the future. Here's what you can do to overcome your dental anxiety and make it easier to schedule (and actually attend) your next appointment!
Tip #1: Mind Your Breathing
A common symptom of anxiety is that you tend to hold your breath. This can cause you to decrease how much oxygen you're getting, which then causes more nervousness! To prevent this cycle, try practicing relaxing techniques like meditation or breathing exercises ahead of your visit. You can also do this during your appointment, by focusing on how you inhale and exhale, which can help distract you from any anxious feelings.  
Tip #2: Listen to Your Favorite Music
If you have any favorite songs or music, use them! Most times patients may find the sounds of dental tools to be unsettling. Your dentist may allow you to wear your headphones during your treatment to block out the noise. You'll be able to get your necessary procedures while listening to your favorite tunes.
Tip #3: Communicate Your Feelings & Concerns
Sometimes we may hold in our feelings or hesitate to talk about them, which can make us more anxious in the process. By speaking with your dental team about your thoughts and concerns, they can adjust your treatment to better suit your needs. You may even be offered sedation therapy to help calm your nerves throughout the procedure.
Tip #4: Ask About the Treatment Process
It may be stressful for you if your dentist begins to work on your teeth and you don't know what's happening. To avoid this, ask if you can get the rundown of your entire visit so you know what to expect. They may even explain your treatment step-by-step as they're working to keep you in the loop. Doing so can help you feel more comfortable about the process.
Tip #5: Celebrate After Your Appointment
Once your dental visit is over, you can be sure to enjoy a cleaner and healthier smile. For this reason, it's a good idea to do something fun or rewarding afterward! Whether you choose to go see a movie or shopping, the idea is to give yourself something to look forward to once you've completed your dental appointment.
It's OK to feel nervous about visiting your dentist, but you can also overcome this feeling with these few tips. Feel free to speak with them if you have any questions or concerns, and they'll be more than happy to help!
About the Author
Dr. Henry Lu studied at the Nova Southeastern University College of Dental Medicine and regularly seeks advanced training to further his expertise. He's also a member of the American and Texas Dental Associations. He offers a wide range of services, including dental checkups/cleanings, crowns, bridges, root canal therapy, and tooth extractions to help you maintain your best dental health. If you're ready to schedule an appointment or have any questions, visit his website or call 469-998-9822.