Dental Crowns – Dallas, TX
Protecting Your Smile and Its Future
Are you dealing with teeth that are decayed or severely damaged? If so, the team at Skillman Family Dentistry is pleased to provide dental crowns that look beautiful and appear natural. Offering maximum protection, these uniquely designed restorations allow for improved functionality while also delivering enhanced aesthetics for better confidence. If you think you might benefit from this type of restorative care, call our office to schedule an appointment.
Why Choose Skillman Family Dentistry for Dental Crowns?
Tooth-Colored Porcelain and Ceramic Materials Used
Dental Insurance Welcome
Skilled Dental Team with Decades of Experience
What is a Dental Crown?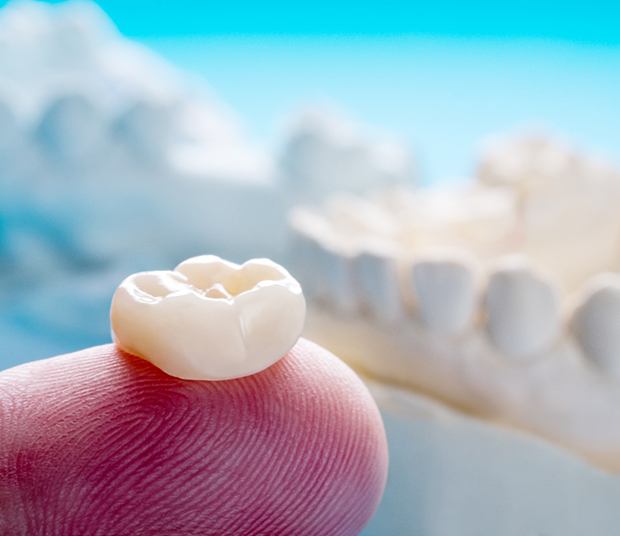 A dental crown is a small, customized restoration that fits over the visible portion of a tooth. Also referred to as a cap, it is often made out of traditional metal; however, advancements in dentistry now make it possible for dentists such as ourselves to provide more aesthetically pleasing options like tooth-colored porcelain and ceramic.
Most dental crowns require at least two visits to our office to complete, and they can last 10-15 years with optimal maintenance and care.
Do I Need Dental Crowns?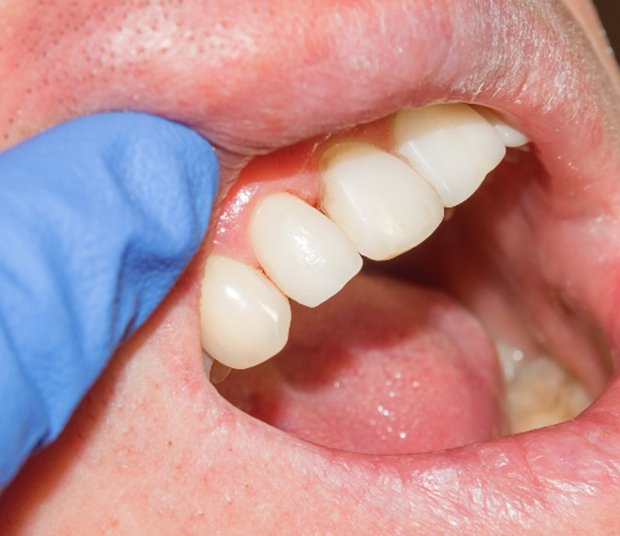 To know if you need a dental crown, you must first schedule an appointment with a member of our team. After a thorough examination and diagnostic imaging, we can determine if a crown will be what you need to address your tooth decay or broken tooth. The most common reason these restorations are recommended include:
Cracked teeth or other forms of severe damage
Suffering damage due to one or more fillings expanding and harming teeth
Undergoing root canal and need protection for the tooth
Receiving dental implants
Severe decay that extends beyond the tooth enamel and reaches the dentin
The Dental Crown Process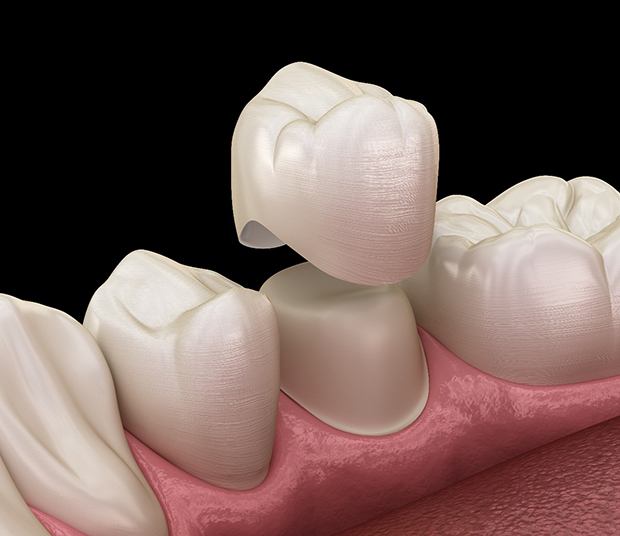 The process of receiving a dental crown starts with a thorough examination by our restorative dentist. After creating a complete treatment plan, the procedure will begin by cleaning the tooth and removing any decayed or damaged portions of the structure.
Once finished, we will fill the tooth with a tooth-colored material so that a tight seal is created. We'll then alter the tooth to ensure a proper fit once the finalized crown is ready for placement. We'll then take impressions of your teeth so that lab technicians can work to build out your crown(s).
During the time between your appointments, you'll be required to wear a temporary crown to protect the vulnerable structure underneath. Once finished, you'll return to our office to receive your finalized restoration after removing the temporary one. You'll immediately begin to feel better about your smile.
The Benefits of Getting a Dental Crown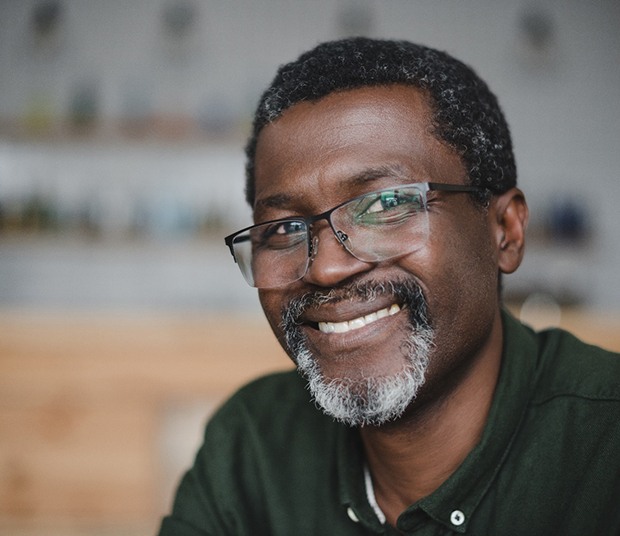 Dental crowns deliver immense benefits to anyone seeking to repair and improve their smile. If you are one of the many who choose this type of restorative treatment, you can expect:
A natural-looking, beautiful restoration that blends in with your existing smile
Your underlying tooth to remain protected from future harm or infection
A restoration that will last a decade or more with optimal care
Improved functionality that allows you to eat, speak, and smile with greater ease
Understanding the Cost of Dental Crowns
Even if you want a dental crown, you might hesitate over their price. That's a fair concern – treatment won't help if it exceeds your budget. Still, the cost of dental crowns isn't set beforehand; it varies from patient to patient. Therefore, you'll need to consult Dr. Lu for an exact estimate. Our office can then offer ways to make your crown more affordable. For further details on all these things, just keep reading or call our office.
Factors That Affect the Cost of Dental Crowns
Our team will perform an oral exam when you first arrive for your consultation. This step lets us (among other things) measure the factors that affect your crown's price. In particular, these include:
Damage Severity – Depending on your tooth's damage, a crown will cost more or less. Minimal harm may mean you only need the actual cap. Meanwhile, a severely damaged tooth needs preliminary work before crown treatment. These services will add to the overall price.
Crown Material – Some dental practices offer metal or amalgam crowns, which are cheap. However, our own office provides crowns made of porcelain and ceramic. Such materials make them a tad pricier.
Crown Processing – A crown milled by a traditional lab is fairly inexpensive. In contrast, one made with CEREC technology will cost more.
As you consider these factors, remember that the cheapest crowns aren't ideal. They're typically ineffective due to their poor materials and crafting. Therefore, aim for something better – you want your crown to be pretty, reliable, and long-lasting!
Does Dental Insurance Cover Dental Crowns?
Often enough, dental insurance does cover dental crowns. Placing these dental caps is a major procedure, after all. Many policies thus offer partial coverage, usually up to 50% of the treatment cost.
All that said, there are always exceptions. Your own policy may not cover crowns. On the other hand, perhaps its coverage involves special rules. In light of these facts, confirm your benefits with your insurance provider. Our office will even help you do so.
Other Options for Making Dental Crowns Affordable
Outside of insurance, there are several other ways to make crowns affordable. The biggest of these are the given practice's payment options. With the right one, even a costly crown can fit your budget.
For example, look at our own Skillman Family Dentistry. We happen to offer flexible financing via CareCredit, a reputable third-party financier. Through them, you could pay for a crown with low-interest monthly installments.
As you can see, we want to help patients manage the cost of their crown procedure. So, book a consultation to learn more about financing the treatment!
Dental Crown FAQs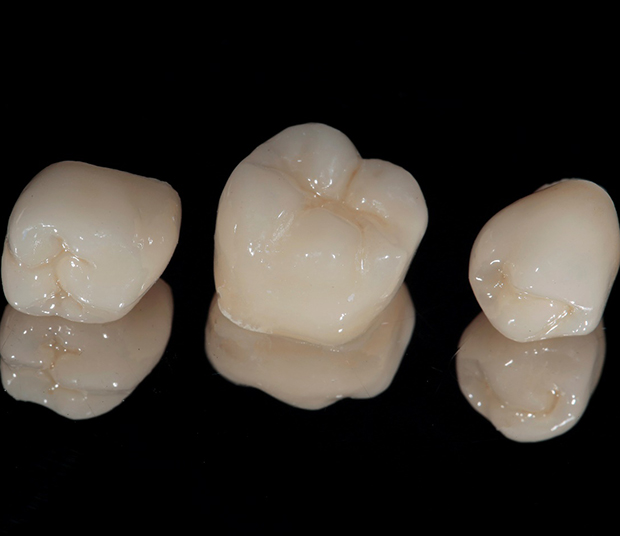 Dental crowns are used for a wide variety of purposes, can be made of several different materials, and treat teeth located in many places across the mouth. These facts make them an incredibly versatile treatment, but they also tend to leave prospective dental crown patients with a lot of questions about their restorations.
Dr. Lu will talk with you about any concerns you have before beginning treatment, but if you want some answers now, this guide is here to address a few common questions you may have.
Are Dental Crowns Permanent?
Dental crowns don't last forever, but yours should protect you for a long time if you care for them well. Depending on the quality of maintenance and where the crown is placed in your mouth, they routinely last anywhere from 5 to 15 years. You can increase your dental crown's lifespan with good dental hygiene and regular dental checkups.
It's worth noting that placing a dental crown means removing a small amount of your enamel from your natural tooth to make room. This process is irreversible, so if your dental crown fails, you'll need to replace it with another one.
Do Dental Crowns Get Cavities?
Cavities are a consequence of acids that are secreted by bacteria in the mouth. These acids slowly erode the enamel as they build up over time. The dental crown itself isn't vulnerable to this kind of erosion, making it so that cavities aren't really a concern.
However, if you don't keep up with your dental hygiene, it's possible to form plaque deposits around the base of the tooth. The bacteria in this plaque can get underneath the crown and attack the natural enamel, which means that a crowned tooth can develop cavities just the same as any other.
For that reason, it's critically important that you still take good care of your crowned tooth.
Are Dental Crowns Safe for MRI?
Whether your dental crown is going to cause problems for an MRI machine comes down to the material that it's made out of. We typically use either all-porcelain or tooth-colored ceramic crowns, so if you got your restoration from us, you're probably fine.
However, some dental crowns are made out of metal, while others (like porcelain-fused-to-metal crowns) incorporate it into their design. This is more likely the older your dental crown is.
If you think that your dental crown has metal in it, it's a good idea to talk to your dentist, doctor, and MRI technician before getting an MRI.
Do Dental Crowns Feel Natural?
Your crown will be custom-milled to fit your mouth based on impressions that have been taken of your smile. Dr. Lu will work hard to make sure that your dental crown will suit your mouth well, meaning that it should fit comfortably on your tooth and be even with the rest of your smile.
All this to say that yes, your dental crown should feel very natural. While it may be a little bit awkward at first to have a brand-new tooth in your mouth, you shouldn't even notice it's there after a week or two. Other people likely won't even be able to tell that you've had dental work done.